Carlson Surveyor 2 Data Collector
$3,650.00 – $4,700.00
The Carlson Surveyor 2 is even more rugged than its popular predecessor — IP68 water & dustproof; shock resistant. Still just 2 pounds and the QWERTY keyboard speeds data entry. This collector comes complete with Carlson SurvCE, the most powerful data collection software on the market today and has a larger, brighter display screen with a higher resolution, easier-to-read color display with scratch-resistant glass.
See Available Discounts in Cart
Description
Completely Ruggedized
IP68 water & dust resistant!
More Memory
Up to 8 gigabytes
Easy to Hold and Control
Just 2 pounds! Key size & location optimized for precise handling
Back Lit Keyboard!
Easily see your keys in low-light conditions
Longer Battery Life
Up to 20 hours
Model Comparison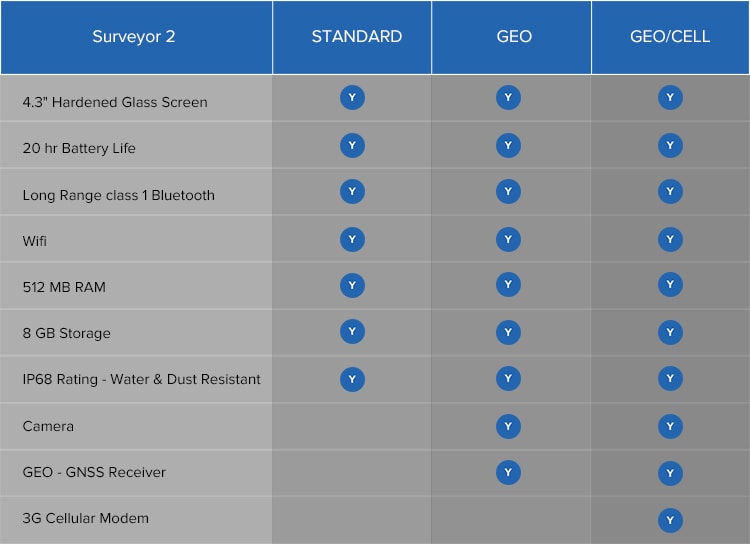 Processing/Power
Processor
1.0GHz ARM Cortex AB i.MX53 processor
Microsoft Windows Embedded Handheld 6.5.3
Multiple languages (English, French, Spanish, German, Portuguese)
Memory and Data Storage
512MB RAM
8GB flash storage
User-accessible micro SD/SDHC slot
Wireless Connectivity Options
Bluetooth® wireless technology, 2.1 +EDR, Class 1.5, line-of-sight range up to 1300 feet (400 meters) when paired with Class 1 Bluetooth device
Wi-Fi 802.11b/g/n with extended range
3.75G modem – Pentaband Worldwide (Geo 3G model only)
Frequencies: HSPA+/UMTS: 800/850/900/1800/1900/2100 MHz (supports micro-SIM card only)
Data communication interface, SMS
Battery
Intelligent, lightweight Li-lon battery 3.6VDC @ 10600mAh, 38.16Whr
Operates for up to 10 hours on one charge
Battery easily changeable in the field
Optimized for excellent performance in cold temperatures
Charges in 2 to 4 hours
Ports
COM1, RS-232C 9-pin D connector with 5DVC power output
USB host (Full A), USB Client (Micro B)
12, 24 VDC @ 1.5-3.5A, 10-36V unregulated
3.5 mm audio jack, supports speaker/microphone or stereo output (pin detect)
I/O module OEM configurable/customizable
Certifications and Standards
FCC Class B
CE Marking (applicable EMC, R&TTE, and LVD directives)
Industry Canada
EN60950 Safety
RoHS Compliant
Videos
Repairs
For repairs, please contact:
Carlson Software
102 West Second Street
Maysville, KY, USA, 41056
1-606-564-5028
1-800-989-5028